Ansel Elgort, pictured to the right, has been reportedly cast in The Fault in Our Stars, a movie adaptation based on the acclaimed YA contemporary novel by John Green. He is set to play the male lead Augustus Waters.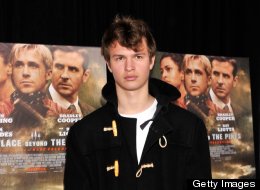 We caught up with some of our local residents of Tumblr to see how they felt about this.
"This isn't working- you can't just simply play a character's sibling and then play their love interest! THEY CLEARLY DON'T REALIZE HOW FRAGILE MY FANGIRL WORLD IS," said Camcorder Lewis, a fellow lover of many Young Adult books.
Her emotions were clearly shaken and provoked by the feels. We ask that you give her the privacy she deserves in this time of overwhelming, confusing emotions surfacing.
In case you weren't aware, Elgort is also partaking in
Divergent
, another Young Adult book to movie adaptation. Not only is he in two YA films, but he is playing opposite Shailene Woodley in both, one playing her sibling, the other playing her romantic love interest.
Many fangirls are very conflicted about this controversial topic. If you happen to come across a fangirl who is losing her mind, you can help her in three easy steps.
1) Hand her chocolate, because chocolate doesn't ask silly questions. Chocolate listens.
2) Let her vent about the problem. Even when she blubbers and makes a noise similar to asdfghjkl, do not question it. Nod and smile.
3) Tell her the upside to the situation. Using The Fault in Our Stars as an example, you can easily tell your upset fangirl this: Well, at least they're almost the same age. Almost.
Note: When comforting a fangirl, on any circumstance, do not mention soiled adaptions, especially of the P to the J to the O range. (What? That's not Percy Jackson at all.) This will only sink her hopes.
Hopefully, the conflicts will settle themselves with time.
Over and out,
Nerdalicious